Oxidation of a copper coat in 1000 images - excerpt of 8 stages. Cedric Jacquemyn, Antwerp 2018. A study of destruction. A statue as a stagnant representation of movement, an endless contradiction as reflection on a world that becomes more static. Presented in Paris during mensweek January 2018.
SHADOW OF LIBERTY I, II, III Yves De Brabander, Antwerp 2017 (Photo laserprints and waterpaint on mdf) Study of three movements portrayed between dusk and dawn, coming out of the shadows; masked with layers of waterpaint translating the slow oxidation process of bronze sculptures in public areas and parcs; the natural veiling process making the figures disappear in their surroundings again. (Paris showroom installation June 2017)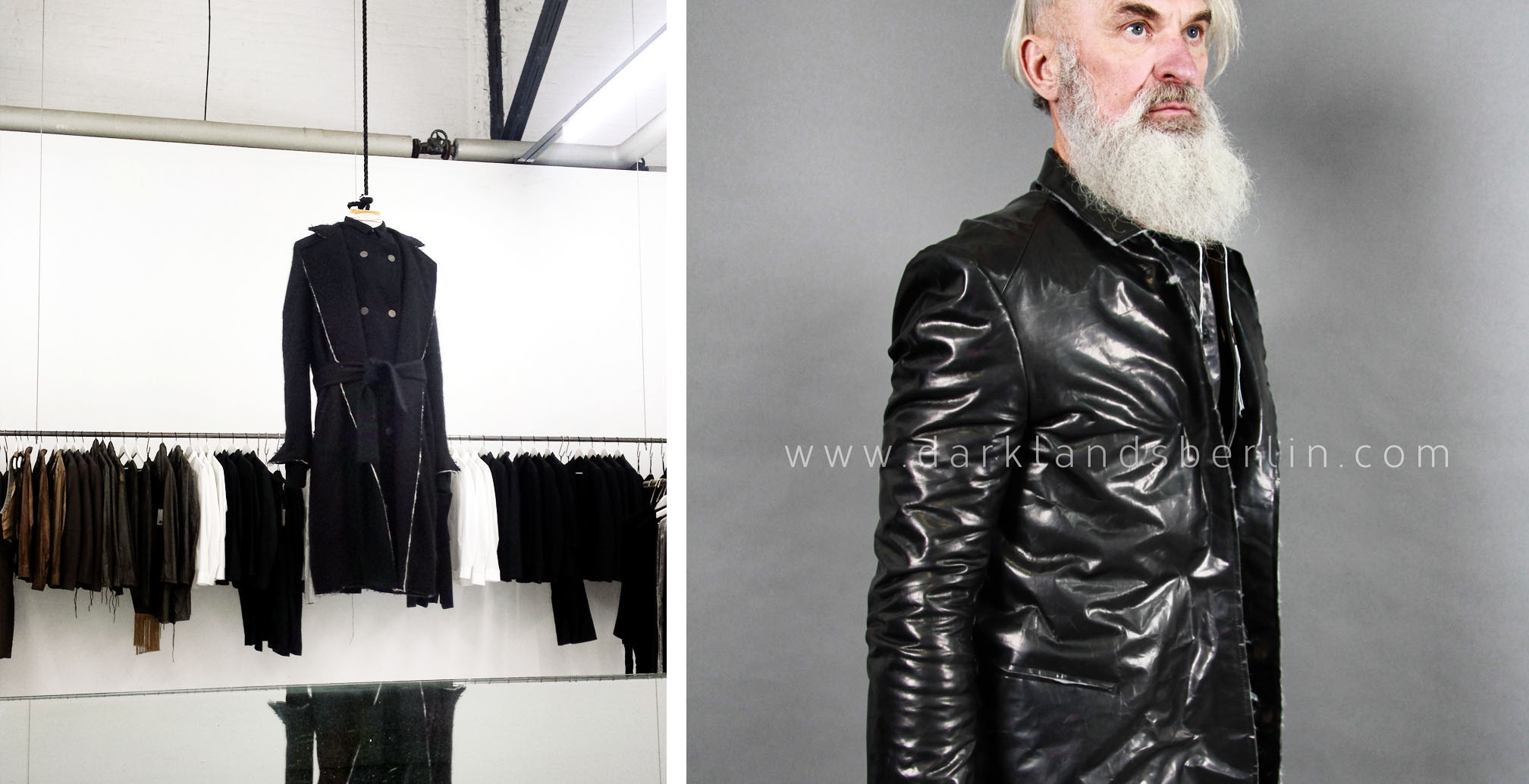 FOR DARKLANDS Berlin Continuous worldwide exclusives for Darklands Berlin. Handmade at the Cedric Jacquemyn atelier Antwerp. Each unique creation is tagged with a copper plate, signed and numbered.
I CN I Belgian designers CEDRIC JACQUEMYN and NICO UYTTERHAEGEN team up in a new line of footwear. Designed in Belgium. Handcrafted in Arezzo, Italy.
FLANDERS LINEN SS17 - AW17 - Using a high-quality linen, flax, grewn, harvested, spun and woven in the Flanders region. Craftmenship since 1350. Designed by Cedric Jacquemyn and exclusively woven in Flanders, Belgium.
Cedric Jacquemyn X Nico Uytterhaegen Various footwear collaborations with fellow Belgian designer Nico Uytterhaegen. Belgian vegetal tanned calfskin, handcrafted in Italy.
WAKAYAMA, Japan Collaborations and sourcing of Vintage slow knit jersey in Wakayama, Japan. Design and production of a 100% japanese raw silk jersey.
CJ Space Antwerp Temporary pop up gallery during AW14-15 - SS15 in Antwerp's Kloosterstraat, first floor of Recollection. Showcasing Cedric Jacquemyn collection as well as Mad et Len, Nico Uytterhaegen
UNESCO HERITAGE Barkcloth has been manufactured in Uganda for centuries and is Uganda's sole representative on the UNESCO Cultural Heritage Lists. We have created two signature pieces showing these designs during the FW show in Paris.
FW14 Show at Maison Metallos Show during Paris Men's fall-winter 2014-15, "to the depths of the last reserve". photography by Julien Boudet for StyleZeitgeist and JCT for Some/Things Magazine
Lambskin crochet Handshaved and -cut and handmade crochet lambskin cardigan. Existing of 25 fine italian lambskins, 250 manhours. Shown during FW14 Paris show, sold exclusively at Darklands Berlin, 1 of 1 worldwide. (Image by Julien Boudet for StyleZeitgeist, model Dima Dionesov @ Marilyn Paris)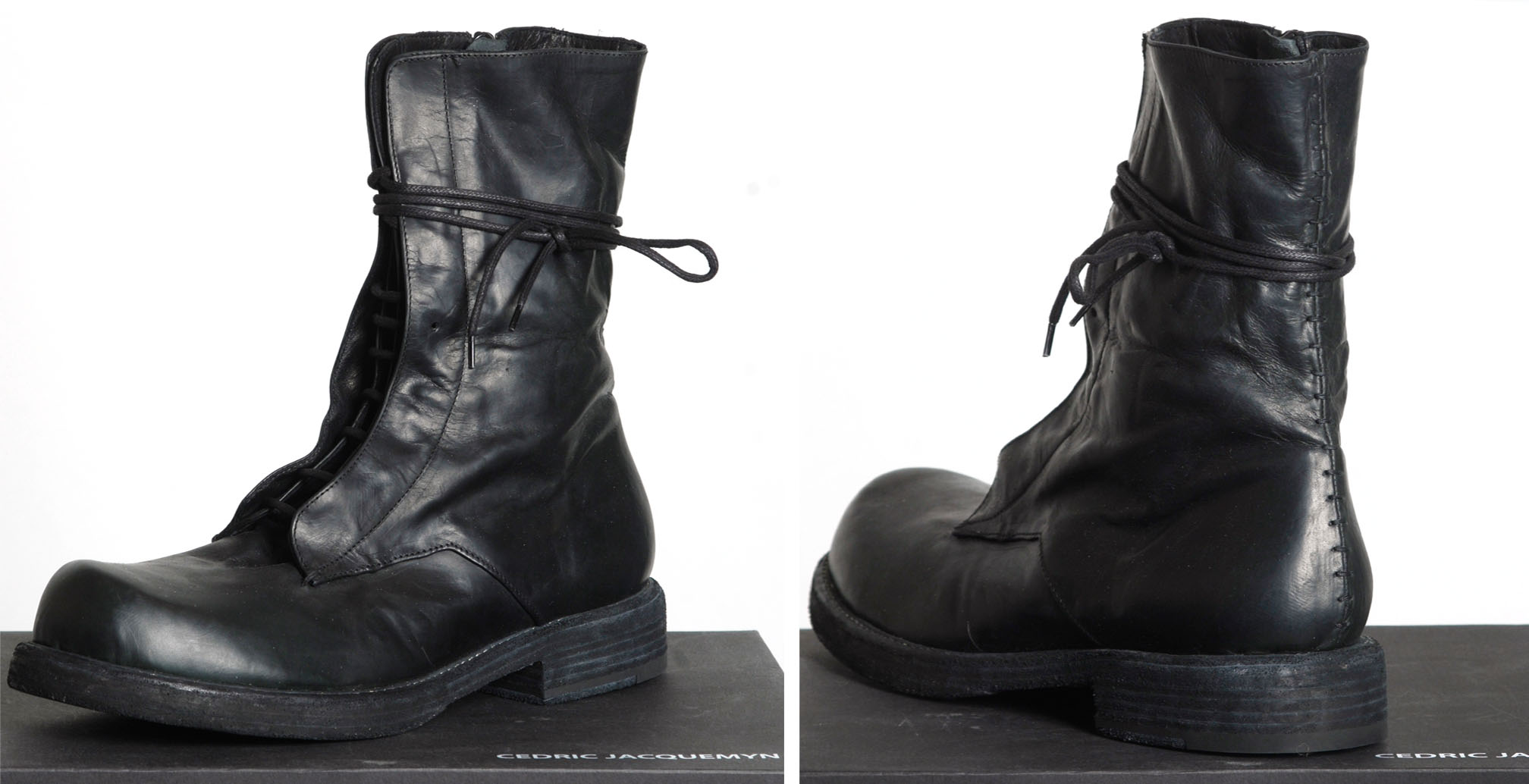 Cedric Jacquemyn X Rombaut Collaboration with Belgian footwear brand Rombaut. Design, creation and development of a fully handmade handhammered boot, finished in polished Guidi vealskin. Handmade in Arezzo, Italy.
Handloom weavers of Garhwal, Himalaya Since SS14 we are closely working together whith the Handweavers of Garhwal. This UK organisation offers training, support and provides villagers with the looms, spinning wheels and logistics. 100% fairtrade 100% ecologic 100% sustainable. (images of SS14 collection developed selfedge wool fabric)
H R A U N by Cedric Jacquemyn Temporary 4 season-only second line, made in Belgium, exclusive for Scandinavian retail chain WEEKDAY. Launched in Copenhagen during Fall Winter 2012, after a one-season Antwerp Academy collection by Weekday given as price to 3 Bachelor students (launched in Berlin during SS12 fashionweek)